Lipe & Sons, Inc. Grain Elevators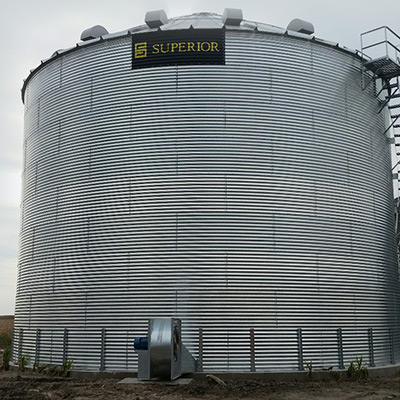 Since 2010, Lipe & Sons, Inc. has been your go-to dealer for grain storage products and handling equipment. We specialize in the sale of and can facilitate the assembly of grain elevators, handling equipment, and bins.
Quality Grain Handling Products in Illinois
Lipe & Sons, Inc. is your go-to source for a high-quality, affordably-priced grain bin in Illinois! If you're looking for grain storage, you don't need to look anywhere else. We're an authorized distributor for some of the best brands on the market—including Superior, Hutchinson/Mayrath, NECO, Creamer Metal Products Inc., Sudenga, Conrad American and more! Best of all, we're knowledgeable about all of the products we sell and can help you get the perfect equipment for your agricultural operation. Whether you're looking for a standard grain elevator in Illinois or you need expert insight into a silo with a pneumatic air system, we're here to help.
We won't just sell you a grain bin in Illinois either—we'll also assemble it and help you ensure it's fully integrated into your operations. We want to make sure you're getting the most value for your investment and we take pride in partnering with our customers to offer them best-in-class service. Need repairs for your grain handling equipment? We can offer that too! We've been working on these systems for years and are backed by decades of hands-on experience. Take a look at just a few more reasons so many customers throughout Illinois have made us their premier choice for grain bins, grain handling equipment and all of the maintenance that comes with them:
We've been a locally-owned business since 2010.
We're a family-owned and –operated business.
We offer some of the top brands and styles of grain bins, including Superior.
Our team has more than 30 years of experience in the industry.
We're ready to offer you a free quote on products and services.
Get a Free Quote Today
Looking for a grain bin and handling equipment to meet the needs of your agricultural operation? Consult with us today for a free estimate on products that are right for you!
Areas Served
Proudly offering grain bin sales and repairs to the following areas:
Coffeen, IL
Vandalia, IL
Litchfield, IL
Hillsboro, IL
Greenville, IL
Nokomis, IL
Ramsey, IL
Fillmore, IL
St. Louis, IL
Springfield, IL
Decatur, IL
Montgomery County, IL
Bond County, IL
Fayette County, IL