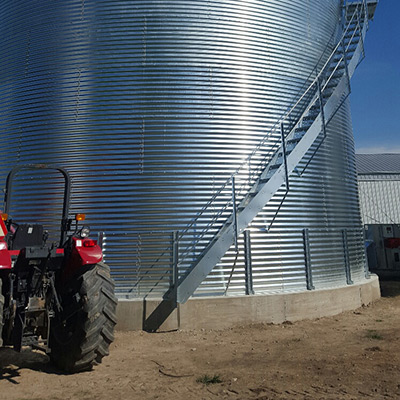 Looking for grain bins for sale in Illinois? Want a price that's lower than the competition, without sacrificing any of the quality? Lipe & Sons, Inc. is here to help!
As the foremost experts on grain bins and grain handling equipment, we're prepared to provide you access to the products you need, at prices that are far below the competition! We do this by eliminating the middle-man: we distribute directly from the manufacturer and handle all assembly in-house. The result is a quality product for a price that you'll be happy to pay!
In addition to a wide range of differently-sized grain bins for sale in Illinois, we also provide a bevy of additional products, including:
Roofs and vents: We offer roofing and ventilation systems that are designed to protect your inventory against even the harshest elements. Our roof and vent systems are designed to stand the test of time and can be tailored to your unique grain bin.
Power sweep unloads: Our power sweep unloads can handle up to 7000 bushels per hour! Plus, a rack and pinion, all-steel construction ensures a lifetime of worry-free operation and seamless functionality.
Stiffener anchor brackets: Need to reduce the stress exerted on your current grain silo? We can offer stiffener brackets that add tensile strength to prevent horizontal movement and dangerous shifting.
Floors/supports: We offer floor reinforcement supports that are heavier and stronger than the competition—designed for loads up to 88' high. They're easy to clean and resistant to abrasive damage for long-term implementation.
Bin stairs: Access to your bin's eave has never been easier or safer than it is with bin stairs properly installed.
Full-sized doors: Quick, convenient access is made possible with a hassle-free, full-sized door.
Fans: Superior airflow is critical in your grain storage bin. Fans facilitate airflow for maximum freshness.
In addition to all of the above essential components, we also distribute a wide variety of accessories for your grain bins and handling equipment, including:
Pneumatic air systems: We can design a 4", 5" or 6" system to meet your unique needs. These systems are best utilized in dryer or poorly-ventilated site plans.
Stirring systems: These systems feature high-performance fans and heaters for an in-bin drying solution.
Grain spreader: Even distribution of the grain within your holding silo means better airflow.
We work with some of the most trusted name brands in the industry, to ensure our customers receive best-in-class results. Some of the brands we put our trust in include:
Conrad American
Creamer Metal Products Inc.
Hutchinson/Mayrath
For more information about any of the grain handling equipment we offer, please contact us today by calling 217-710-0457.